ELMA Community Edition opens up unique opportunities for the companies that seek to improve their efficiency. Being a fully functional BPM system, ELMA CE allows businesses to manage processes at any stage of their lifecycle and implements logic of continuous improvement.
We want to make BPM available to every business, that's why ELMA CE has no restrictions on the time of use and the number of user licenses. Download ELMA CE and benefit from all the features it has to offer at zero cost.
Business Process Modeling

For process modeling, ELMA CE uses BPMN 2.0, a simple and intuitive graphical notation. You can create and improve process diagrams in ELMA Designer. It is a visual editor with a convenient drag-and-drop interface.
When you create a graphical diagram, you understand how exactly the process works, which tasks process participants need to complete to achieve the desired result and who is responsible for each process step.
To implement a complex logic that is not met by the standard BPMN activities and provide custom automations, ELMA CE offer script tasks.

Easy-to-use graphical editor to model business processes
Graphical model to get insights of tasks and responsibilities of the process participants
Customizable process context
Custom automations with scripts
Business process diagrams that you can further run as bpm apps.
Business process excution and workflow automation

Each process diagram turns into a bpm app, which means that users can run it in ELMA.
During the process execution, ELMA CE automatically creates tasks for users at appropriate stages according to the process model. The system provides relevant information where it's required, for example, sends attached documents, notifies about approvals, so a user can immediately start working on a task.
For each assignment, you can set a priority and deadlines and let users plan their work accordingly.
Once the task is complete, ELMA CE decides what the next step of the process is and sends respective notifications.

Speed up task execution
Well-organized work across different departments involved in a process
Minimize human errors
Reduce costs
Convenient user interface
Business Process Monitoring

ELMA CE allows achieving great transparency of business with Process Monitor. You can track every business process in real time and receive up-to-date data.
All the information about a process is displayed on one page; there is no need to browse through the system to collect all the necessary data. Using filters, you can easily configure the required report, the system will display exactly the information you need. It allows you to spot process bottlenecks, take timely decisions to eliminate them and, thereby, improve overall efficiency.
On the process monitor page you can always check:

Information about a process (version, owner, supervisors, date created)
Graphical model to get insights of tasks and responsibilities of the process participants
List of process participants
Process statuses
Process start and end dates
Process tasks
Process map, which shows the current process step
Continuous improvement of business processes

Continuous improvement is one of the main goals of all companies, almost everywhere. Businesses evolve, grow and improve and so do business processes.
One of the advantages of ELMA CE is its exceptional flexibility. With ELMA CE, you can quickly change processes and keep them relevant and efficient. You do not need to stop the server to apply changes, modify process logic, and interfaces.
Moreover, ELMA supports process versioning. If a modified process does not meet your requirements, you can always restore a previous version. Similarly, you can compare two versions, and see if the changes were efficient.

Improve business processes on the go, there is no need to stop the system
Manage process versions
Compare process versions to evaluate the effect of changes
Try ELMA BPM Community Edition. It's free!
Fast Start with ELMA Store
For those users, who have little experience with BPM software we offer ELMA Store. It's an online store of ready-to-use bpm apps that extend the capabilities of ELMA CE. You do not need to create processes from scratch; download free or premium components from ELMA store and easily adapt them to your business requirements.
There are many BPM apps available in ELMA Store. You can download business processes to automate standard company procedures (mail handling,
leave requests, procurement procedures), as well as additional ELMA modules.
Easy Integration with the Company's IT Landscape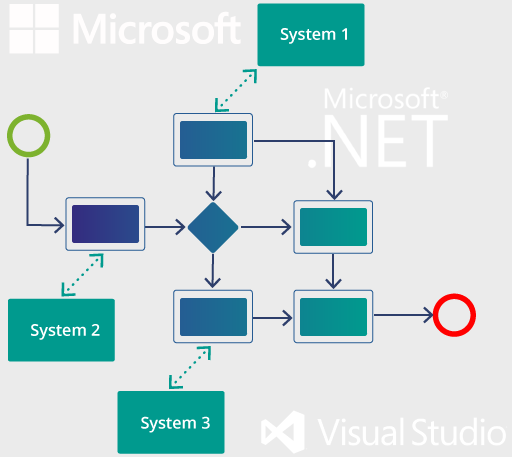 ELMA CE can easily fit into the IT landscape of any company, since integration with other information systems is one of its key features.
ELMA uses a Microsoft-centric technologies stack, which allows for simple and stable integration. The .NET platform enables developers to extend capabilities of ELMA using existing libraries with a set of functions.
With ELMA, it is possible to implement integrations through C# scripts. The system has a special tool for scripts development – ELMA API, which is a set of systematic methods combined in a hierarchical structure. ELMA API makes it easier to create scripts by reducing the amount of code required to solve different tasks.
Electronic Document Management
You can use business processes for document routing and thus automate document workflow of your company. The system automatically assigns tasks to create or approve a document to an appropriate user. Moreover, a user can attach necessary files to each task, for example a word document, an excel spreadsheet, or a scanned copy.
Corporate
Document Storage
With ELMA CE you get a hierarchically arranged storage for documents. A tree-like folder structure provides quick search and easy access to necessary documents.
File Preview
in the Browser
ELMA CE offers the possibility to preview a document in the web browser. It's a convenient feature since the system can store various versions of a document, and a user can quickly browse through the document content before downloading it to the PC.
Granular
Access Permissions
The system gives you full control over the access and security of your files – users only see the files they need for their work. You decide what file a user can access, and what they're allowed to do with it (read, write, edit, delete).
Customer Relationship Management
The CRM module of ELMA CE provides many features for sales automation.
Track all stages of sales
with a sales funnel
Set up a sales funnel to track the dynamics of sales. It shows all deal stages from the initial contact to a closed contract.
The sales funnel gives you a panoramic view of all the company deals; you can check which ones are closed with success and which are failed.
It also helps to diagnose bottlenecks and quickly solve them to make sales process flow faster.
Contractors
database
Use ELMA CE to keep track of all your contractors, contacts and deals.
Each contractor has its own page in the system which contains explicit information about:
the name of the company
a contact person
banking details
history of interactions with clients
tasks
attached documents, etc.
Sales
forecast
With ELMA CE you can accurately forecast your sales and build a sales plan to avoid unforeseen cash flow problems.
Send sales plans for approval or moderation, check payment amount, date and status and take full control over your sales process!