BPM Use Cases in Sales
ELMA Chief Commercial Officer Andrei Chepakin takes a look at several use cases of how the process approach and a BPM system can help you increase sales performance when deals are simple or complex, when they depend (or not really) on sales representatives' skills.
Who is responsible for sales?
There are two viewpoints on sales. Some people think that success solely depends on how skillful and active sales representatives are. If so, managers keep their employees mentally alert by using sales plans, KPIs and imposing fines when the indicators are not reached. Sales reps have to develop competence, gain experience in negotiating, know the product and subject area well. Other companies prefer to divide the process of selling goods into clear steps. The main thing here is to formalize and standardize all activities, then any sales rep will cope. Both approaches are truly viable.

It all depends on the type of product, industry, management policy and other factors, but there is an interesting marker. If a company lists the necessary functions of the system when choosing a solution to automate sales, it adheres to the first approach. And the longer the list of these functions is, the more responsibility for the sales are placed on representatives.
Two types of sales
Sales that are highly dependent on a sales rep's competencies and vision are characteristic of expensive, complex or unique products. These are deals with long sales cycle that carry financial risks and have consequences for the client. They require a large number of consultations, meetings, tests and demonstrations. B2B decisions about such purchases are usually made collectively.
Business processes of the sales department that works with complex products will differ from the sale of consumer goods. This is typical not only of B2B, but also of B2C markets. This topic has gotten wide coverage, so without going into theory, I will just briefly explain the difference between the two types of sales.
Simple and fast. Client interaction is based on an algorithm. Besides, a common sales scheme is created. An employee simply needs to do tasks conforming to the regulations in order to close deals.
Difficult and long. The main factor behind successful sales is how professional and active sales reps are. It is difficult to formalize the work with consumers at the stage of choosing and making a purchase decision. However, a company can support sales reps by streamlining the stages which are necessary to negotiate successfully and close deals.
BPM Use Cases in Simple Sales
The key to increasing profits is a clear description of the sales business process and building relationships with customers. If a company's work is streamlined, it allows buying goods quickly. Customers will return if they are satisfied with the service. In simple sales, a company can beat its competitors due to a better service.
There are several BPM systems use cases that help to provide better services. If you offer customers to buy an off-the-rack product (whose characteristics do not change), the purchase decision is made quickly and you have many competitors with similar products, these use cases are for you. Use any of them in any combination.
1. Sales automation use case
A BPM system allows configuring a sales process model. Each new deal starts a new process instance. The system helps to boost sales by ensuring that sales reps go through the stages of the process timely.
Sales reps get tasks (call a customer, send a contract and others) according to the workflow configured in the system. Sales reps see their tasks for the day, while the company can monitor how well they work with customers and if the sales department meets the sales target. The system can perform some operations instead of employees, for example, generate commercial offers that are later on sent to customers.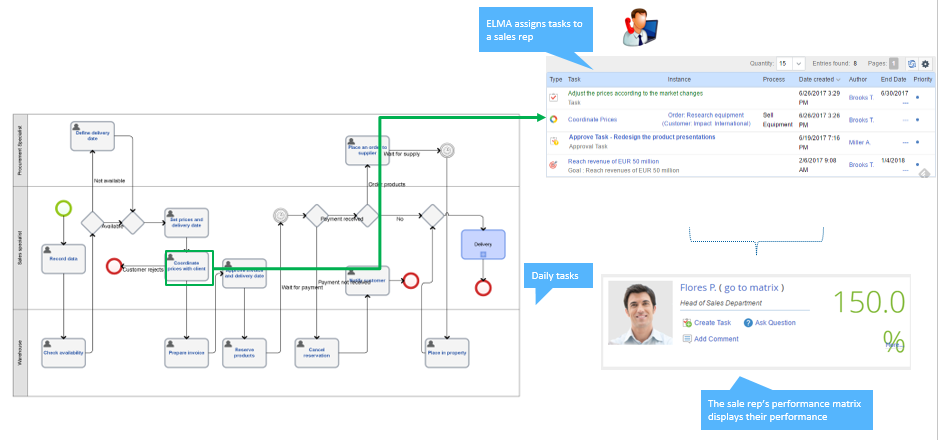 Sales automation use case
The system doesn't make mistakes. Whether to call or send a letter to a client is determined by the process model. Sales reps just need to do their tasks well.
2. Outgoing communications use case
When a customer calls, the system automatically starts a new instance of the sale process. To handle requests received via other channels, for example, via feedback forms on the website, you can configure outgoing communication processes.
They consist of two stages:
Automatic uploading of contact details of potential customers (leads) to the system from external sources.
Distribution of tasks for outgoing calls between sales reps.
Sales reps will see all the tasks generated by the sales process instances as well as the plan of outgoing contacts with potential clients.
3. Development of the sale process use case
If the sales business process is configured in a BPM system, a company can receive unique information about how sales reps work with clients. This information is not only about the number of calls or the sales funnel.
BPMS helps to measure any metrics or indicators:
Order processing time.
Sales amount which is in the work at different stages.
The percentage of successful deals.
The process step at which the customer refuses.
Top 10 sales positions.
Sales reps' schedule compliance.
Other quantitative and
Understanding how the sales business process works can help a company look at it in a new way and see what can be improved. It means not just raising the sales plan pulling the numbers out of thin air or asking sales reps to make more calls. This is a conscious implementation and description of changes in customer relationships.
I described a simple way to analyze a business process and find opportunities to improve it in this article.
4. Automatic enrichment of customer data use case
Simple sales are characterized by quick buying decisions. In this sales type, one call or click is enough to buy a product. The system will automatically fill in data on contractors' pages. Consequently, sales reps do not have to enter them manually or change information.
Data will be accumulated during the execution of customer service processes. Information from external sources can also be uploaded to a client's page, for example, the verification status of companies from the SPARK service, etc.
5. Creating customer experience use case
Customer experience is made up of many components. These are all aspects of interaction with a customer in the entire history of your relationship. Ongoing customer experience development allows you to sell more. You can use a BPM system to create service business processes that will help the company take care of customers and increase customer loyalty.
Here are some examples of service processes that can be used in trading companies to create customer experience:
Customer segmentation according to customized business rules.
Up-Sale processes that analyze what a customer has bought and report on the possibility of an up-sale.
Loyalty program processes that manage discounts, personal promotions and other communications with customers on various parameters.
Planning activities for VIP clients and other processes.
6. Dealer portal use case
Trade as a process of interaction with consumers in many companies involves the development of a partner network. Dealers, distributors and partners in regions help to implement a sales plan. They can also participate in sales forecasting, marketing research, and advertising campaigns.
It is important that the work of partners remains transparent for your company. A BPM system allows you to configure customized interfaces for them:
Provide partners with an interface with quick access to all the necessary functions.
Streamline both partners-to-company and company-to-partners business processes.
Create a single channel of communication between employees of the company and the partner network.
BPM in complex sales use cases
Unlike simple sales, when you work with complex or expensive equipment and unique products, the process is characterized by a long sales cycle. In this case, the sale of goods as a business process can take from several weeks to a year, and sometimes even more.
Complex sales rely on the vision and competencies of sales reps, but the company can increase the chance of success. You can use a BPMS to streamline your processes that will help you to arrange deals
1. Status map use case
In long sales, it is important to keep records of any changes in the deal statuses.
A company can create a status map with different statuses, for example, New contractor, Lost contractor, etc.
To move from one object to another, you can use business processes that will automatically convert data, create records in accounting systems, or execute specific business logic. For example, when changing a potential client's status to the current, the process will register a new customer and give them access permissions to their personal account on the company's portal. In complex sales, any technology can be made executable using a BPMS.
2. Active Sales Funnel use case
To ensure effective sales management in trade, it is convenient to use sales funnels to monitor the stages of deals and financial forecasting. A BPM system allows you to configure one or several funnels based on work with clients statuses, individual sales reps, the entire sales department or a regional group. In addition, you can create active sales funnels.
The difference is that deals are transferred to a new stage by starting a service business process. Sales reps cannot transfer a deal to the next stage without a clear reason. To continue, the system will require all the necessary information.
3. Involvement in sales use case
The success of complex sales largely depends on the competence of sales representatives. However, a sales rep has to attract specialists from other departments at the stage of purchasing a product, configuring it and others. For example, when conducting a pre-project survey, developing a specification or requesting prices from suppliers.
You can use a BPM system to organize any type of business processes that will help sales reps quickly bring experts with the necessary competencies and the customer together.
Involvement in sales use case
4. Deals audit use case
In complex sales, reps conduct a big number of deals simultaneously. Some are active, whereas others are pending. It is important that the system reminds employees of customers with whom they need to continue working.
BPMS allows creating service business processes to audit deals:
Automatic control of deal activities.
Reminding sales reps to bring the information up to date.
Analyzing the work timing to forecast the deals success chance.
5. Continuous work with a client use case
Business processes in trade are not limited to obtaining the coveted "yes" answer. After a client decides to make a purchase you do not stop working with them. The company needs to organize the execution of a deal and live up to the customer's expectations. The system can automate any groups of business processes: contract work, procurement, order production planning, warranty service and many others.
Stay up to date with company news and receive notifications of new posts