Digitization in HR. Automate!
HR departments deal with recruitment, hiring, onboarding, offboarding, leave requests, holiday requests, timesheets, benefits, performance reviews, and even taxes. Every single day. Imagine the amount of data involved in all these processes.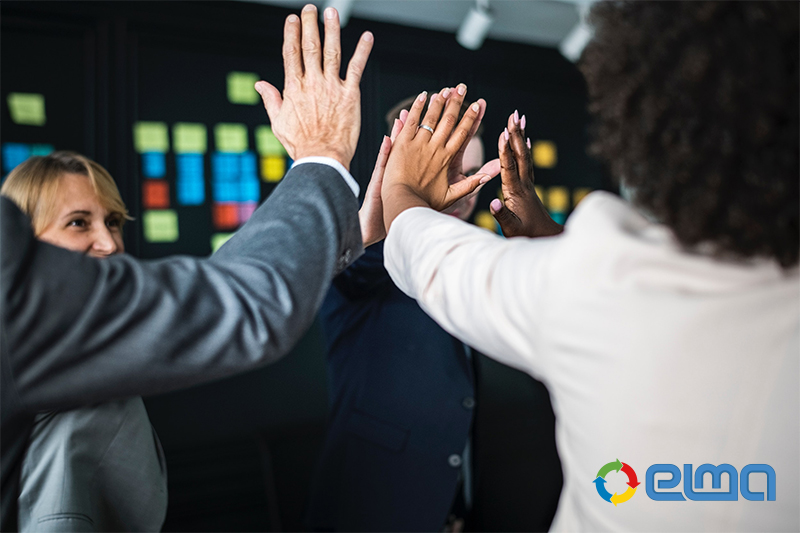 HR tasks are often thought to be manual yet manual means errors and misunderstanding. For example, what happens when an employee does not file a formal holiday request but instead sends it by e-mail to their manager?
Chances are that the request will not be processed on time and the employee will not receive his or her holiday allowance.
Or say the Head of IT catches one of the HRs over coffee break and mentions that the department needs to hire a software engineer. This doesn't guarantee that the HR will actually proceed with recruitment, because things said over a cup of coffee do not exactly count as formal requests.
There is a way to put things under control – automation of HR processes. Going digital is inevitable for today's businesses. When there is software that launches and controls HR processes, there are no process delays and all the data is kept in one place. There is always an employee responsible for a task, and the software makes sure that everyone involved is notified about what is currently happening in the process. Automation enables better security, reduces human error and helps keep documents in perfect order, no need to maintain tons of paper and buy filing cabinets.
There are different ways you can do it. You can install different applications to deal with specific problems, such as Timely that automates timesheet tracking. Or you can go for the bigger picture and choose to automate your company's operations entirely with a BPM system. ELMA BPM can help you with document management, time tracking, and will automate basically any process that you need. You can actually do it free of charge with the Community Edition.
Let's take a look at the most common problems in HR processes and see how shifting from manual execution to automation can help solve them.
Onboarding and Offboarding
A well-organized onboarding process helps engage employees and make them happy. In both onboarding and offboarding, automation can help you get rid of excessive paperwork and secure access to sensitive data. A new-hire should feel welcome and be able to begin working comfortably right from the start, instead of wandering around the office thinking about who is supposed to give them assignments and when the paycheck is due.
In case of automated offboarding, such things and NDAs, tax documents, paychecks are always under control. You do not want a person to leave your company and then find out that there had been a mix up in their documents or their last paycheck is late.
These processes play an important role in creating the company's reputation so make sure that your employees are happy. Automate to avoid human errors!
Employee Recruitment
Gathering a team of professionals who work well together and provide results for the company is one of the main goals in HR. HRs receive requests from other departments and look for those specialists that the company needs at the moment. And here comes the problem.
As I have already mentioned, not everyone makes such requests in due form. People tend to avoid what they count as excessive work, so instead of filling in an official request form, many people would choose to send an e-mail or a message in Skype or, as in the example above, will simply catch an HR specialist in the hall and say what they need. Such requests can be easily lost, and there is a chance that the HR specialist will not remember the requirements correctly, resulting in a new hire who does not fit into the company.
Now imagine that all requests for new-hires are made online on the corporate portal: the Head of IT clicks a button to start the request process, fills in the form, and the request is automatically sent to the HR department.
Here is what such a form looks like in ELMA BPM. The fields on the form can be configured differently for each company to include just the right information: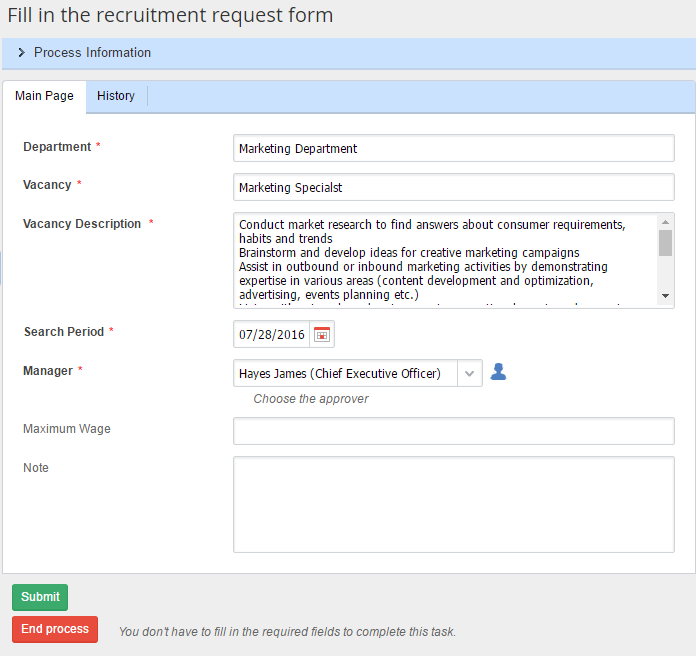 This way, all the requests are stored in one place, nothing is lost, and the HRs are assigned with corresponding tasks for recruiting the required staff.
Employee File Management and Timesheets
Employee records, work permits, contracts, and benefits – the amount of employee data is enormous. Using electronic forms and an automated HR system can significantly reduce the time spent on sorting the documents, entering information and approving timesheets. Online forms work perfectly for leave requests and holiday requests, which are then automatically processed for calculation of allowances.
Manually completed timesheets are not the best solution, they can be lost, they require a lot of time for processing, and don't forget the bad hand-writing! If timesheets are not processed in time, the employees do not get paid; if timesheets are processed with mistakes, the company or the employees lose money. An automated process can guarantee that the timesheets are submitted on time: employees enter their hours in special online forms; the data from these forms is automatically collected and sent to the payroll system. No chance of delays or lost information!
In ELMA BPM, the form for submitting billable hours looks like this. An employee specifies the tasks that he or she has been working on, enters the hours and sends the form to the manager for approval. At the end of the month, all the approved hours are sent to the Accounting Department for payroll.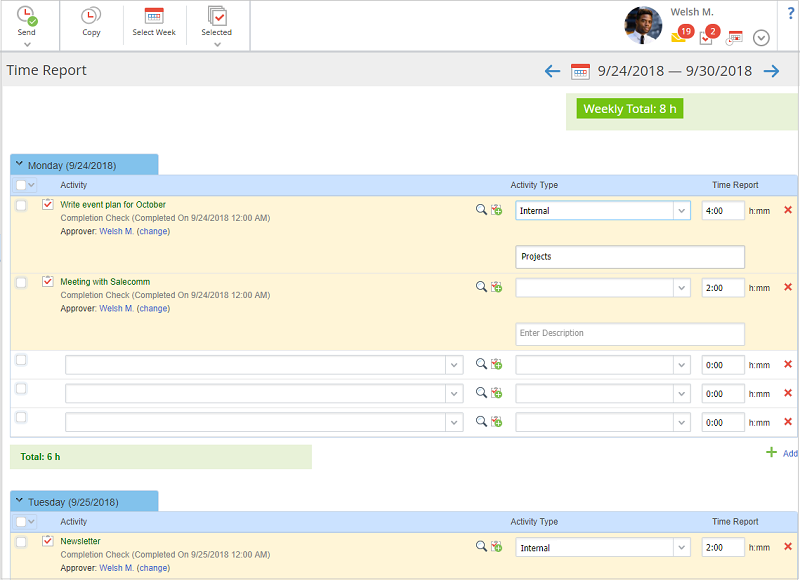 Performance Appraisal
Managing the annual performance review is never easy – the amount of paperwork can be frustrating. Reviews are time-consuming, and more often than not employees hate them. Bring in technology! Online forms and review templates aren't the only way to make things easier. Automation software can assign employees with tasks to do self-evaluation, the results of which are then sent to their managers for further review. All the information entered online is saved and can later be used for analysis. No need to print forms, route them, and collect them back. Automate for easy and effective feedback!
Policy Compliance
It is important that your employees are aware of the company's policies and regulations, so make sure you deliver them properly. When using automation software, you can upload the policies in different formats, send alerts to the employees about new policies that can be downloaded from the company's corporate portal, or send them directly to the employees' emails.
An automated workflow can handle sing-offs, approvals, audits and assessments. Automation software can help you reduce your company's compliance risks, avoid legal problems, save costs, and help employees focus on their work.
So I say go for modern technologies, go for automation and doing things online. There is always a way to do things better and today it means going digital.
Stay up to date with company news and receive notifications of new posts