Managing SLA parameters with KPIs (part 1)
In this article, we will describe how to manage SLA parameters using KPIs. Let's take a small service center as an example.
Managing a service center is a complex task that requires constant control and optimization of all the processes. On one side, you have manufacturers who want you to complete warranty works in time, plus audits and certifications require a lot of your time. On the other side, you have customers who are today more demanding of speed and quality of services. Moreover, there are competitors to think about.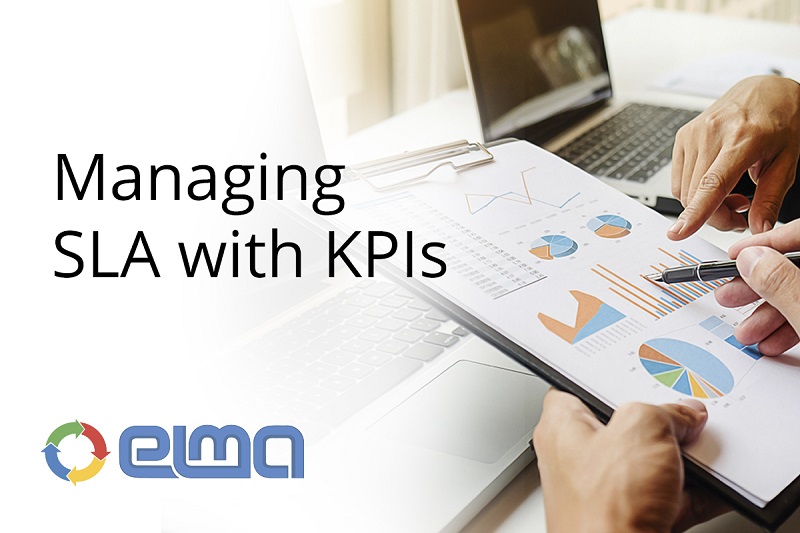 You can choose to lower the price and raise the quality of service, shortening the repair period and giving a wider warranty. This will give you many happy clients, good reputation and a lot of new requests. However, after a while, you will see that you are working at a loss. Alternatively, you can choose to do quality work at a high price and for a long time, and as a result lose all the clients.
Finding the right balance between the price and SLA might take several years. But if you do find this balance, you will be getting the highest possible revenue at an optimal cost. Isn't that the dream of every business owner? You can reach the point of maximum revenue by trial and error, or you can decide to use modern software and reach the top with least expenses and in the shortest time. Do not let the cost of implementation of technologies bother you. Think about how much your time is worth and how much you can lose while trying to work out your own way. Most probably those losses are much bigger than the cost of software implementation.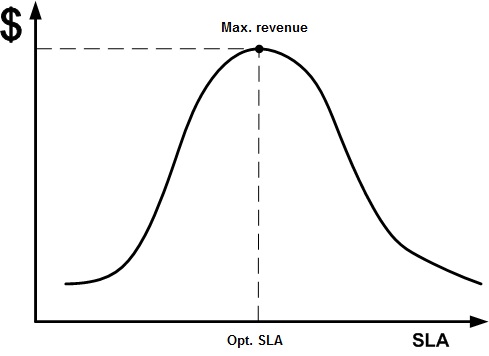 SLA implies a certain level of the service being offered. The quality of the service must be measurable. You must be able to convert them into numerical metrics over specific periods. You can use KPIs to evaluate the SLA and thus improve the quality of your company's work.
We offer you a ready-to-use tool for managing a service company at all the levels. You can ensure control and optimization of all the processes. In this set of articles, we will explain and describe how a KPI system can help increase a company's revenue and quality of services.
Let's see what parameters are typical for SLA of a service center and what KPIs can be used for optimization.
1. Cost of a spares warehouse. Even if the Head of Warehouse applies ABC analysis and you schedule procurement and estimate the spare part use, with time some parts turn out to be non-sellers and the warehouse begins to fill up. However, a large warehouse does not mean one with quality goods and services. Some parts will never be used; so the money invested in them will never come back. To control and optimize this parameter you can use the "Increase of warehouse cost, %", that is, the ratio between the warehouse costs in the current and the following financial period. Some manufacturers plant a mandatory requirement to have a large stock of spare parts, but the cost of this stock must not grow from month to month. With a KPI you can control the growth of warehouse cost and increase the revenue.
2. Cost of warehouse for parts under repair. In a service center, the parts under repair tend to accumulate in the warehouse and result in money loss. With KPIs you can control the amount of your debt to the customers by evaluating the work of those employees who are responsible for this warehouse. You can assign the "Debt to customers" KPI to the head of your Client Relations Department. This KPI will show the total cost of work done on the parts still not given to the customers and therefore not yet paid for. This way you will have someone taking control of the situation when you have offered the services but not received the payment.
3. Response time. This KPI helps you control the period during which the repair is done and motivate your employee to work faster. There are three types of response time:
Call-to-repair response time: the period from the moment the customer comes to you to the moment you fulfill their need;
Service response time: the period from the moment the equipment is accepted for repair until the moment it is repaired;
Repair response time: the time that a technician spends on actually repairing the equipment.
Most manufacturers seek a short service response time. However, for better efficiency, you should take into account all the types of response, even the time of delivery. If you include the "Response time" KPI into the performance matrix of the responsible employees, you can optimize this process.
4. Warranty. A service center must guarantee the quality of its services. Assign KPIs to all the job positions. For example, to technicians, you can assign a KPI that would measure the ratio between the number of repeated repairs and the total number of repairs over a period. For a storekeeper, it is important to avoid any delays in transportation of equipment and spare parts. Therefore, you must add a respective KPI to their performance matrix. This way you will raise the quality and shorten the service time.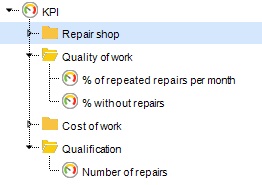 Business process optimization and reduction of added value at each step. Some steps are more demanding than others and lead to increase of added value. You can introduce corresponding KPIs for those employees who are responsible for these steps and, thus, motivate them to raise efficiency. You have to understand that the added value isn't always evident. Sometimes you achieve it by shortening the time in which an order is given back to the customer or offering training to your employees.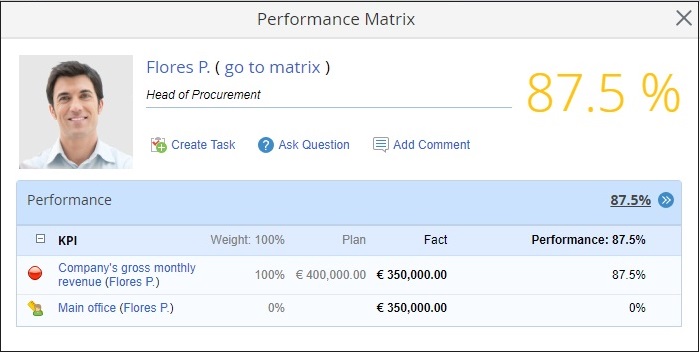 Implementing business management software gives you a competitive advantage because you reduce the service time and increase the quality of service. You can improve customer experience by using feedback KPIs. You can analyze the number of repeated repairs, phone your customers or offer them to complete a survey. This information can help you evaluate the work of your employees and of the whole company.
Employee training. Many things can influence user experience. Even if you have the best and fastest technicians, the overall impression can be ruined by a poorly qualified receiving employee. When you use KPIs to evaluate performance, your employees know that they need to be better qualified to raise the KPI values. They feel motivated to undergo training that your company offers and to develop personally.
Constant analysis and process improvement. KPI management software can show the current situation in the form of tables and graphs. Therefore, you can timely react to any changes in plan values and make the right management decisions. With a KPI system like ELMA, you can analyze and improve all the aspects of your company's work.
In the next article, we will explain how to compose a KPI tree for key employees, configure performance matrices and link it to goal management.
Creating a KPI system (part 2)
Performance matrices (part 3)
Stay up to date with company news and receive notifications of new posts