Top Software for Small and Medium-sized Businesses
Today we cannot imagine running a business without computers. We use electronic mail, spreadsheets, document storage and social media.However, there is software for more specific business needs and the options differ depending on the size of your company.
Often medium-size business needs more proficient tools than small-sized firms do while large companies are a slightly different story because they have other pains, needs, and resources. In this article, I give an overview of business management software for small and medium-sized businesses.
Of course, this is not a complete list of available software, there are a lot more applications on the market. However, I describe some great free and reasonably-prices options that can help you run your business in an efficient and flawless manner.

Taks Management Software for small firms
If your company is literally one or two rooms large with five to ten employees, you do not need complex business management software. In your case, sometimes it is faster to just stand up and discuss a task instead of setting due dates, routing documents and so on. However, there are applications that can make task execution more organized and efficient. Importantly, they are free.
Todoist. Todoist can be used across Android, Windows, iOS, and integrates with Gmail, Outlook, and Postbox. You can align tasks in projects or just keep them in the inbox; you can label, date and prioritize them, and earn Karma points (a great gamification element!). If you are looking to organize task management in your small company, the free Todoist version will suit you well, but you can always upgrade to the 28.99 Euro premium or business plan.
Trello. A web-based application featuring lists that are laid out horizontally on the page, giving you a view of all the tasks or a project. If you think visually, you will find this kind of digital sticky notes a great way to make lists, log tasks and even manage entire projects.

Trello

ELMA BPM Community Edition. If you are looking to go further than simple task management, we advise considering ELMA BPM Community Edition, a free BPM-based application that includes features for efficient task management, customer relations, and document management. It can grow with your company, because the number of users is unlimited, and you can go totally digital with ELMA Community Edition's document and performance management features.
Task Management Software for medium-sized firms.
If your company has long overgrown the two-room office, organizing your task management might be a bit tricky. In this case, using only such applications as Trello will not help and you might want to consider more profound and feature-rich solutions.
ELMA BPM Commerical Edition is our first choice because it allows you to link your tasks to performance management and employee appraisal, monitor billable hours and manage payroll. It is sold at a price, but the possibility to have it all in one is totally worth it.
ELMA BPM Community Edition. You can choose the free ELMA BPM edition, too. It is meant for an unlimited number of users and provides all the necessary features for task management: assignments, due dates, timesheets, attachments, and messages.

ELMA BPM Tasks sections

Bitrix24 comes with an online task manager. It is free for teams up to 12 people and features task templates, checklists, planner, tracker and other useful tools. Also, you can use Bitrix24 to manage other aspects of your business as you will see below.
Project Management Software for small firms
Most probably, you do need complex tools and platforms, but apps that allow sharing information with your team as well as keeping track of project tasks would be a good option.
Trello. I've mentioned it already, and keep insisting that it is a great free project management app for small firms who want to get things done. A handy layout and a visual overview of who is working on what makes managing your projects easier. Using the Board, List and Card features you can make project management digital and organized.
KanbanFlow. KanbanFlow is great for visualizing your work and sharing information with your team. The built-in Pomodoro timer is a great help when it comes to time management. Also, KanbanFlow features a calendar feed, import and export to Excel and REST-based API with webhook support.
Slack. Now this one is perfect for communication and collaboration! It features chat-rooms, private groups and direct messaging, and brings together people, conversations, tools, and information. There is a free version available, so don't hesitate to try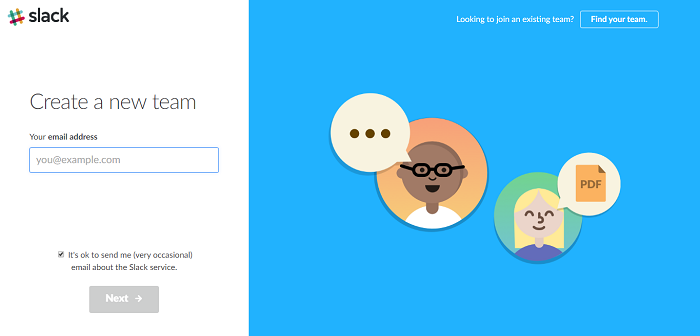 Slack
Project Management Software for medium-sized firms
When your company has several departments, you want project management software that provides efficient communication across all teams and allows you to keep a closer look at your projects. If project management is a big deal for your company, I advise considering the following applications.
ELMA Projects+
KPI Management Software for small firms
Even if your business is not large, you always work on performance and improvement, therefore KPI management cannot be underestimated. You do not need complex solutions, but getting an application that features convenient KPI dashboards could be of great help!
ClicData. The free account for one user allows for 1 GB data storage and 10 data refreshes per month. To make your data visual, you can create and configure KPI dashboards from templates or a blank. The free version supports CSV and Excel data. You can always upgrade to more professional versions that support more data sources and more frequent data refresh. The pricing is very reasonable.
Chartblocks. In this app that offers both free and paid versions, you can build charts, import data and share your chart online or download as an image. There is no coding required, you can select a chart from a dozen of chart types and customize it as you like. Importantly, Chartblocks integrates with Facebook and Twitter.

Chartblocks

Zoho. With Zoho reports, you can track your KPIs with a wide range of charts, widgets, and other reporting components. Zoho allows you to email your dashboards, export or print them if you need offline access. The free version is for two users only, but that should be enough for a small company.
KPI Management Software for medium-sized firms
To meet your business goals, it is important to track your KPIs and measure your performance. A convenient application can give you a look at your entire company, each department or even employee.
ELMA BPM Commerical Edition. This BPM platform gives you a clear picture of your company's performance and provides all the information in a relevant and easy-to-understand form. It has a built-in KPI module, so you can easily manage all the important data. You can create KPIs, assign responsible employees, calculate performance and even link the KPIs to your business processes if you have them automated. ELMA BPM Commercial Edition enables you to create a map of company´s strategic goals, align them with KPIs and track how effective you are at achieving the goals.

ELMA BPM Community Edition

Zoho. I've just mentioned Zoho as a good application for small firms, with their free version. The medium-sized companies can also benefit from this great app with the paid versions starting at 50 dollars per month for 5 users.
Customer Management Software for small firms
Being a small firm, you most probably build rather personal relationships with your customers. Customers find that appealing, and as you grow, you need to maintain this personal touch. A CRM system can store all the information about a customer, remind you about their birthdays and generally keep things organized.
SuiteCRM. Being an open source CRM system, SuiteCRM is a good choice for small businesses. It works with contracts, invoices, workflow, events, google maps and much more. It might seem as an excessive solution for a small firm, but if you are trying to compete on the market and grow, managing your customer relations cannot be underestimated.
Zoho. Zoho provides great customer relation management, you can customize your key data, automate the sales process. Zoho CRM system supports different medium channels, so you can interact with your customers on the phone, email or social media. Having it all in one place is very convenient if you want to organize your sales process!
Customer Management Software in medium-sized firms
As the number of customers increases, you need to work hard to maintain their loyalty as well as bring in new prospects. This process can be well controlled by a CRM system with such features as a sales funnel, invoice management, and information storage. The SuitCRM and Zoho described above are also good for medium-sized firms, but you might want to consider and explore other platforms with different features.
ELMA BPM Community Edition. If you are looking for CRM software only, I would not recommend investing in the paid ELMA BPM version because it goes way beyond customer management. However, you can enjoy its CRM features in the free ELMA BPM Community Edition. It has a great CRM module, where you can organize your sales and store all the information about your customers, see all your transactions in a sales funnel, sort e-mails, communicate with clients, and create invoices and contracts. ELMA CE is a good solution for contract management and invoice management since it has extensive ECM features, while the BPM platform allows for automation of sales processes.
Bitrix24. With both free and paid plans, Bitrix24 offers you a possibility to create a contract database, import and export contracts, create reports and CRM dashboards. There are multiple apps that Bitrix24 integrates with; and there are such features as face recognition, managing access rights and making calls to clients via IP telephony. Basically, Bitrix24 provides a CRM database and a platform for managing your prospects, customers, partners and other contacts that you might be dealing with.

Bitrix24
Depending on your needs, the company size and resources, you can find appropriate business software on the market. You have probably noticed that some business apps like Zoho, Bitrix24 and ELMA BPM follow the all-in-one concept and include tools for managing several aspects of business. Others, like KanbanFlow, are focused, lightweight and do not require a lot of resources.
The size of your company, your industry and goals are key to selecting the right software, and I hope that I have given you some useful information for making your choice easier.
Stay up to date with company news and receive notifications of new posts