BPM in Healthcare: Improve Quality of Care and Operational Efficiency.
The business of healthcare is very complex and, in fact, rather competitive. Healthcare management strives to achieve better results in delivering high-quality patient care complying with all the regulations and legal requirements at the same time.
Such level of complexity requires a high level of control. BPM offers just that: healthcare providers can improve and control their business processes, get rid of inefficient operations, reduce costs and improve patient care.
Now, let's take a look at the processes of a healthcare organization. Which are the ones that you should automate and manage with a BPM system?
We are not taking into account the management processes such as strategic planning, but are rather focusing on the operational processes that create the primary value stream, and the supporting processes, such as accounting and recruitment.
You can do two basic things with BPM:
Design your business process diagrams, that is, define the processes in graphical form.
Execute the business processes, that is, run them in a software application.
The processes may vary through different countries and organizations, so let's consider the most common ones.
Procurement of equipment. Modern equipment means a higher quality of services that a healthcare organization offers to its patients. The more efficient and cheaper the procurement process is, the higher the quality of service. BPM can help automate this process from the moment someone fills a request form, to the moment the vendor's invoice is paid.
Patient scheduling. Again, this process has a lot to do with the quality of service. Moreover, it is very important for overall efficiency and the clinic's revenues, since the revenues are very dependent on the patients showing up for their appointments. Automation allows the clinics to keep this process as smooth as possible: the doctors can see all the appointments and the reception desk does not have to worry about reminders due to automated appointment alerts.
Document management. As I have mentioned in the first part of the article, document management in a healthcare organization cannot be underestimated. There is a lot to take care of:
internal documents such as e-mails, requests, explanatory reports
patients' documents: charts, personal data, insurance documents
Handling of this documentation can be organized by means of a BPMS. For instance, a clinic can automate registration and approval of documents, processing of incoming mail and restrict access to important data. Going paperless means convenient access and fewer errors.
Leave administration. Vacations, sick leaves, maternity leaves and other types of leave require a lot of attention. Not only efficient leave administration is important from the point of view of HR, but it also allows for accurate patient scheduling and planning. When using a BPMS, your employees only have to start the leave request process, and all the rest (request approval, notification of payroll, etc) will be controlled by the system itself.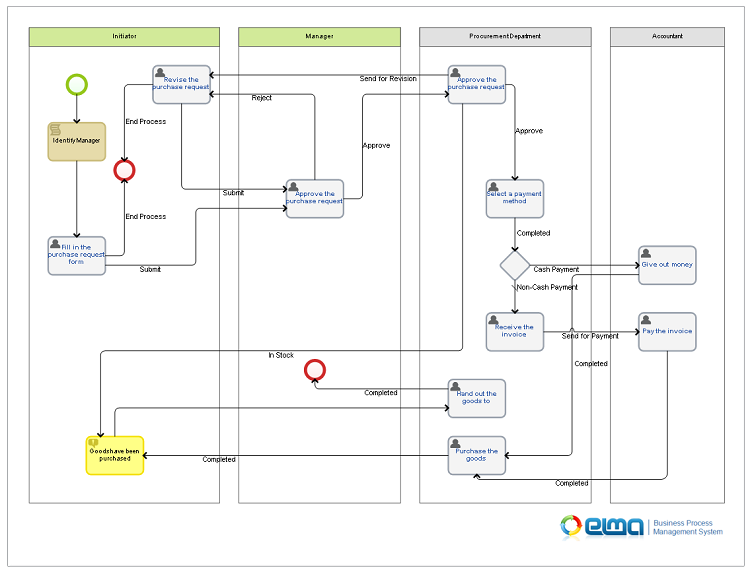 Example: process map of the procurement process
What features of a BPM system can make healthcare management more efficient?
Business process approach implies having certain process policies – a description of how exactly things must be done. Business processes are executed according to the policies, and the supervisors find it easy to control the overall working process.
Reports can give a panoramic view of almost any aspect of an organization. Some BPM systems allow you to make reports on schedule compliance, task completion rate, revenue growth and so on. A tool like this makes it possible to stay up-to-date and make better decisions faster.
You might find it more convenient to use a BPM product that does not require hiring experts and analysts to configure and support the software. There are all kinds of applications on the market, from complex to user-friendly, so you can always make the most appropriate choice.
You want your employees to do their job well and without faults. A BPMS can offer many useful features since it is aimed especially at making the work process organized and well structured.
Here are some of them:
Messaging– Medical personnel can exchange messages, attach documents, scanned files, etc., there may be channels dedicated to certain topics, announcements or private conversations.
Calendar – All the events can be registered in the employees' calendars visible to the supervisors and managers. This gives a clear picture of current activities and makes planning easier.
Tasks – Task management ensures that nothing is forgotten and all the tasks are accomplished on time.
Document management – In a healthcare organization, this issue is highly important. There are several things to consider, like storage, security, and efficiency of document-related tasks. With an automated workflow, approval of documents is made easy and transparent, and many BPM solutions offer convenient storage and access administration options. Going paperless is a great advantage of BPM.
Mobile – Mobile applications give access to all the required information, tasks, messages, and calendar literally from anywhere. Having immediate access to, for example, analysis results might be crucial as far as healthcare is concerned.
Basically, a BPM system allows you to organize the working process taking into account your budget, policies and business requirements. It automates all aspects of business management and patient care and keeps them under control. BPM helps comply with all the regulations, raise revenues and stay competitive.
It goes without saying that for healthcare organizations that strive to satisfy their patients and offer high-quality services, a BPMS is a perfect solution.
Stay up to date with company news and receive notifications of new posts