Managing Projects with a BPM system. The Project Conveyor Technology.
Many companies are involved in project management. Production of any unique result, product or service implies project activities, whether it is construction, IT or make to order manufacturing.
Every project is aimed at creating something new. Every project has a unique team of executors, due dates, budget and customer requirements while in a business process all stages are predefined and predictable. This makes project management different from business process management.
Can a business process be used to automate project management?
This is exactly what I want to talk about in this article: the symbiosis of projects and processes. I shall also explain the project conveyor technology implemented in the ELMA Projects+ application.

Symbiosis of projects and processes
The systems for managing processes and projects are based on different administration approaches.
Business process automation with BPM, ERP, EDM software is focused on establishing working standards and policies, and always implies a clear sequence of activities, that is, repeated work stages and tasks.
Project management and task management software is aimed at knowledge integration. Since every project is unique, the automation software must be flexible. Such software allows you to assign tasks to project team members, exchange files and messages, monitor due date and so on. These systems offer a shared workspace, do not have a predefined sequence of tasks, and allow the manager to adjust the work stages as desired in each specific case.
ELMA is a business process management system that is aimed at automating a predefined and modeled sequence of tasks. As far as project management is concerned, ELMA offers a flexible approach demonstrated by project management systems.
ELMA combines the advantages of both project and process management, thus, offering the consumer a flexible project management system implemented on a process-based engine.
Understanding of managing projects in a BPM system
The symbiosis of the two approaches is based on the fact that although each project is unique, there are always typical stages that repeat from project to project, such as preparation of project documentation, estimation of defects according to manufacturing and logistics data, project budget approval, calculation of bonus payments to the project team members and other similar processes.
Furthermore, projects never exist outside of a company. This means, that if a project requires a certain specialist, the HR Department will be in charge of recruiting the specialist, and if a supplier's invoice has to be paid, the Accounting Department will be in charge. These are not unique processes, quite the opposite; they can be well documented and defined. While neither the HR department nor the Accounting Department belongs to a certain project, they still influence the project's outcome.
That said, the symbiosis of the process and project management approaches allows you to:
Define the most common and repeated project stages, design them as business processes and automate in a BPM system.
Take advantage of the automated common stages that are required for a certain project. This way you save resources spent on managing this type of work.

Symbiosis of the process and project management approach in a BPM system
Such a solution is rather flexible as far as organization of project activities and task control are concerned (you can read more about the features and capabilities of the ELMA Projects+ application here). Furthermore, when the common stages are automated, you have a lot more time to deal with the more complex and unique tasks, which every project involves.
Project Conveyor Technology
The project conveyor technology implies automation of repeated project stages. This solution works best for those organizations that manage many similar projects.
Project management firms carry out a lot of repeated operations and project stages. Of course, the data, budget, due dates, and requirements are always different, but certain activities repeat each time, so there is no need each time to do all the work from scratch.
The project conveyor technology, which we implemented in ELMA Projects+, makes it easier for project management firms to handle similar projects. Let's see how it works.
1. Project templates
The project conveyor technology in ELMA Projects+ implies creating templates for different project types, so that when a new project comes, you simply have to take a template and adjust it to the project's requirements.
The system automatically creates a calendar plan of the project, the project roles, a set of files and folders, the structure of the project budget and the manager's workspace adapted to the template. For each project type, specific lifecycle stages and project templates are configured.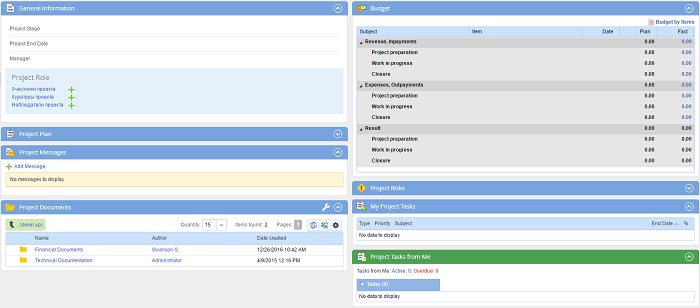 Project template in ELMA Projects+
2. Processes in projects
You can incorporate automated business processes into your projects in the following cases:
As a project stage, if the work that has to be done is common and repeats in each project, and, therefore, can be managed by means of a business process in ELMA.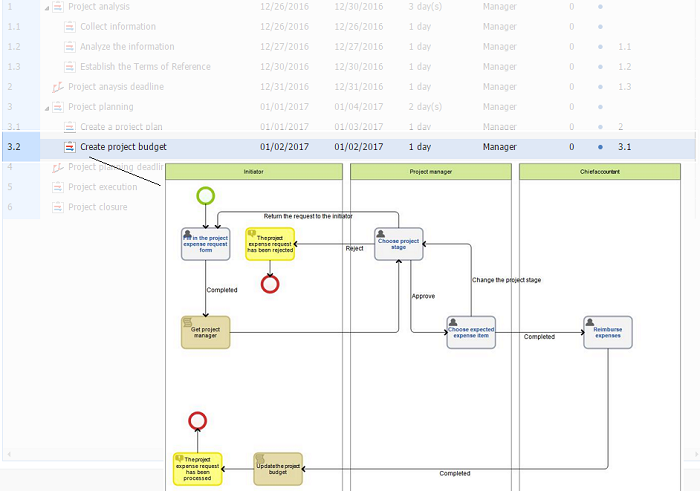 Using a business process as a project stage
These typical processes depend on the industry. Here are some examples: project budget approval, selection of the project team, procurement of materials and many others.
ELMA can start a process exactly when a certain task from the project charter is accomplished. For example, the Terms of Reference approval process starts when the previous Prepare Terms of Reference task is accomplished.
For processes that are not directly linked to the project and are started when needed. Usually, it is the supporting processes aimed at handling a certain incident in the project, for example, expanding the project budget, procurement of additional equipment, correction of due dates, recruitment request and so on. In case of such an incident, the project management simply starts the required process in ELMA. In this case, incident handling is well defined and regulated.
For processes that automate the change of project stages; for example, a process that checks if the tasks of the stage to be closed are all indeed completed. Or, say, the manager wants to launch the project, so ELMA checks if all due tasks are accomplished and notifies that, for example, TOR is not yet approved. This group of processes also includes automatic execution of required procedures upon project stage end, such as sending project document to the archive once the project is completed.
3. Control and monitoring
The project conveyor technology not only gives you new opportunities by automating the typical project stages, it also helps you to control and monitor all your projects.
Since projects are divided into stages, you can check at which stage your projects currently are.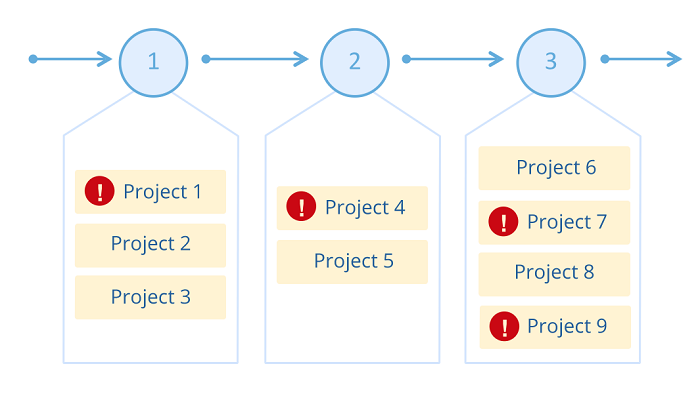 Current stages of the projects
If you see that many projects are stuck on the same stage, you can immediately react, reallocate resources and sort out the situation. This way, all your projects are always under control.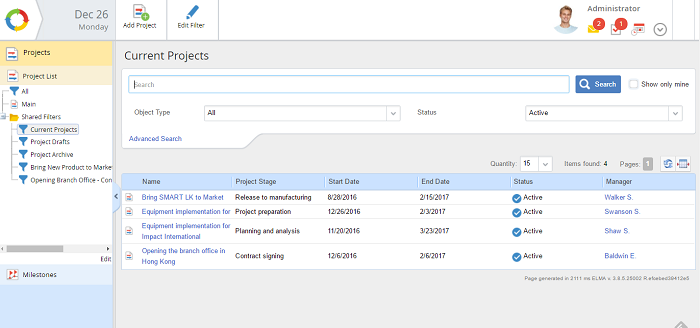 Reports on project types and status
As you can see from the above, the project management approach implemented in ELMA Projects+ alongside with the project conveyor concept is based on combining the project and process management in one IT solution.
Our application has all the features of a project management system (such as task management, comments, project plan, budget and risk handling), but is implemented on a BPM engine.
With this approach, you can turn all your standard procedures into automated processes and successfully manage the unique and specific aspects of each project.
Stay up to date with company news and receive notifications of new posts