Implementing business process management in a large company
Each company has its own organizational structure – departments, divisions, and employees who perform certain functions. As the business grows, the organizational structure gets more extensive. At that point, team members start to have troubles because of poor communication, inefficient data sharing, and lack of staff motivation. They spend a lot of working time to overcome these difficulties.

The company's management needs to bring people together and improve teamwork. The question is how. I advise looking at the processes. Each process allows you to represent and organize activities of various departments as a value chain of the organization.
In this article I´m trying to answer two questions that managers of large companies ask themselves:
What is the benefit of the process-based approach for the big business?
How to start implementing a business process management system?
Why do I need to implement a business process management system?
First of all, you need to understand that the process-based approach does not change the company's organizational structure. Organizational structure is used to model business processes, as each process area has a performer and a supervisor who controls the performer. Consequently, the organizational structure is used to automate business processes.
At the same time, it is useful to analyze how activities of various departments and people correlate to each other and form the value chain – from the first task to the output produced by several specialists or departments: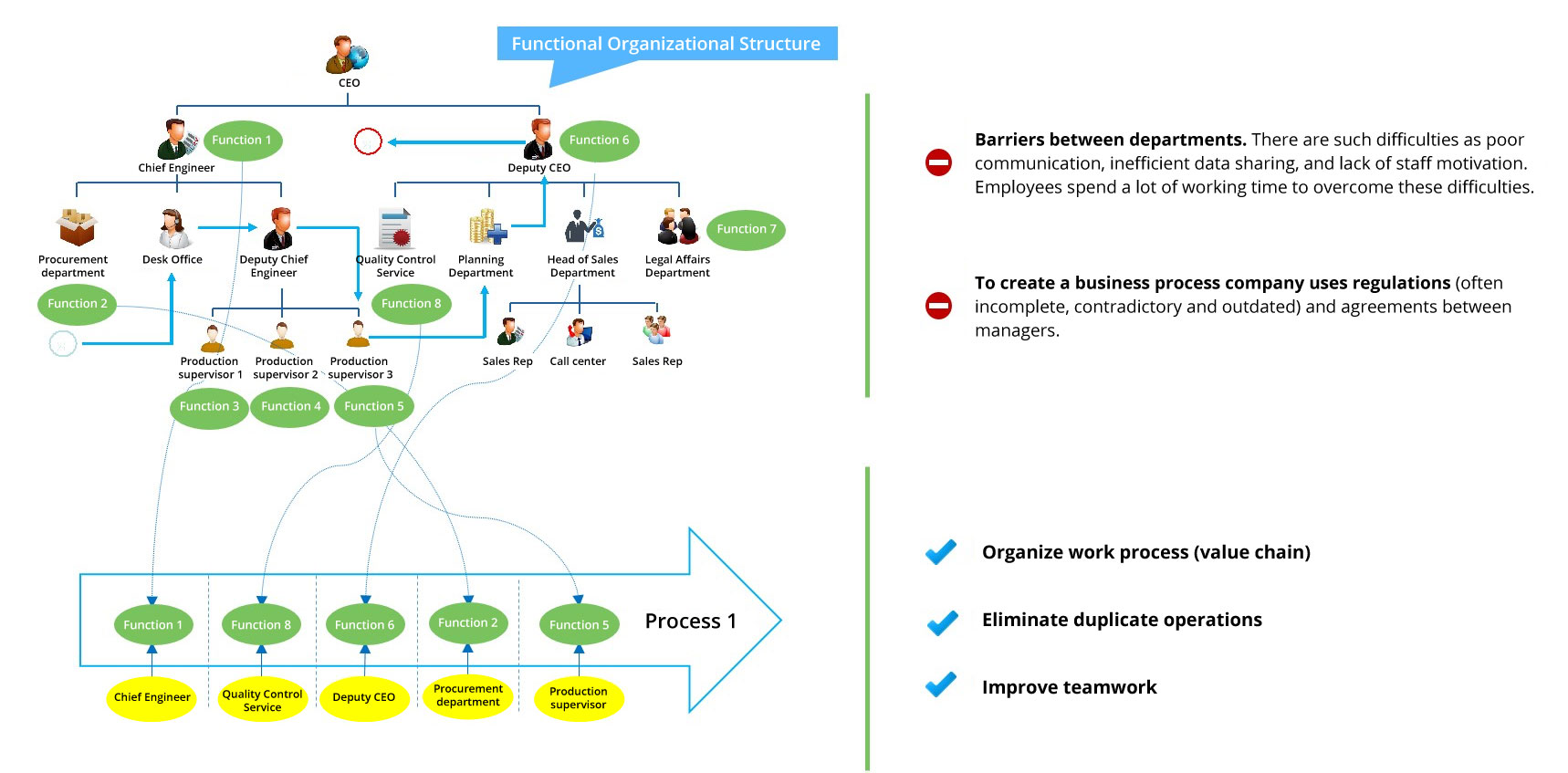 By analyzing and improving processes, you can:
1. Unleash the economic potential at the operational level:
Improve teamwork across departments

Reduced Process Inventory

Reduced Flow Time
Estimate productivity and efficiency of employees
Utilize resources
The detailed description of the key process metrics (such as flow time and inventory), as well as ways of measuring them you can find in our previous article.
2. Improve strategic effectiveness
Big companies work on global strategic objectives and monitor performance. When a company starts to track KPIs, it somehow comes to business processes, because they provide predictable results.
That is why the business process management system provides strategic efficiency:
Move from the goals set on paper to actions and changes.
Processes can be changed upon management´s request. That´s why processes don´t hinder but help the strategic development of business.
Incentive programs and payroll accounting are carried out according to the employee´s work.
Maturity levels of business processes
If you have decided to implement business processes, it is important to determine what step you should take next. Often our clients ask how to approach processes if they number in the hundreds or even thousands?
The first thing you need to pay attention to is the type of processes. I stick to the well-known concept of management and management theory, which has been well studied. According to this concept, each company has three process types:
Operational or essential processes – constitute the core business and deliver value to customers. They represent a chain of activities where each step must contribute to creation of customer value;
Supporting processes – are designed to provide support for operational processes;
Management processes – intend to measure, monitor and control the activities of the essential and support processes. Management processes are used to increase business efficiency.
Besides, it is important to understand that each process has a particular maturity level:
Level 1: Initial – business processes are inconsistent and are not coordinated.
Level 2: Managed – business processes are defined, but different procedures are used for similar tasks, making work badly coordinated.
Level 3: Standardized – standard processes are synthesized from best practices, and guidelines are provided to support different business needs. Organization uses special software to automate processes (or parts of processes).
Level 4: Predictable – detailed measures of the processes and their outputs are collected, analyzed and controlled. Process performance is measured throughout the workflow so that process outcomes can be predicted.
Level 5: Innovating – The processes have owners. Process evolvement is aligned with the organizational goals. Processes are continuously improved.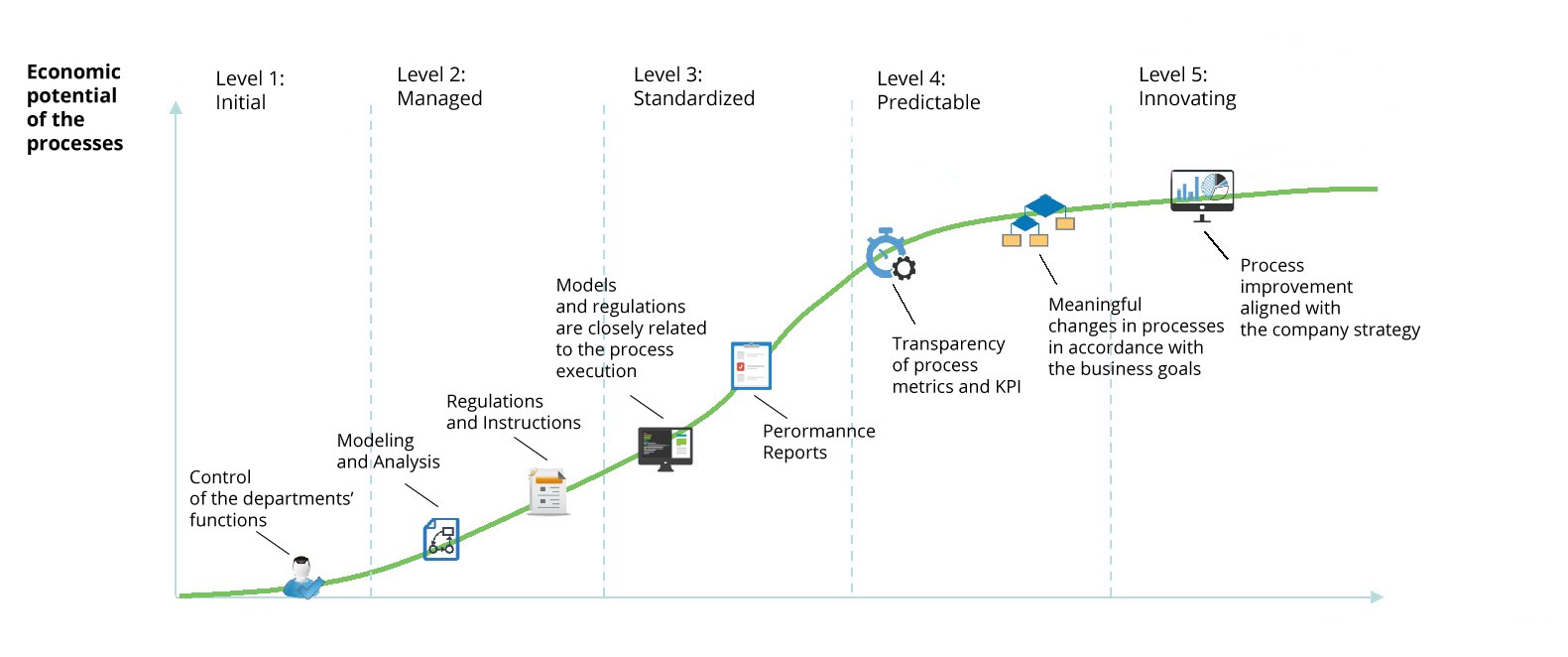 By improving processes and increasing their maturity level, you can increase the economic potential of the company. Chaos consumes money. Therefore, at the first stage, you need to determine what processes exist in the company, and what level of maturity they have.
Maturity Level 2
Let's talk about the Maturity Level 2 – repeated, regulated processes. Many companies tend to regulate their business processes and I often hear from our clients that they have whole departments that deal with the process description and regulation (i.e. increase the maturity of the company processes from level 1 to level 2).
1. What for?
If a company is large, different departments need to coordinate their teamwork. If the company employs several thousand people, obviously they are not able to get together and set rules for collaboration. Therefore, representatives of different departments work together in small groups in order to establish teamwork across departments.
In addition, heads of departments often take the initiative to evolve their processes. For example, the head of the supply department implements an electronic procurement platform, to organize tendering process within his or her department. But this process is not correlated with processes of other departments and it may be unclear how to link them to each other.
Often high-level meetings are held to resolve incidents and global problems and work out particular management approaches. Then, the decisions taken at the meeting are implemented in practice. If a company is big and has a long history, these decisions accumulate over time.
The regulations allow you to set things to rights, "look around", find contradictions, and duplicate activities across departments and to understand how to link the business processes one to another.

2. How to regulate?
For process regulation, it is convenient to use the decomposition method. The operational process is divided into sub-processes, which, in turn, are divided into logic units. This allows reaching basic business processes, which are described by means of a notation.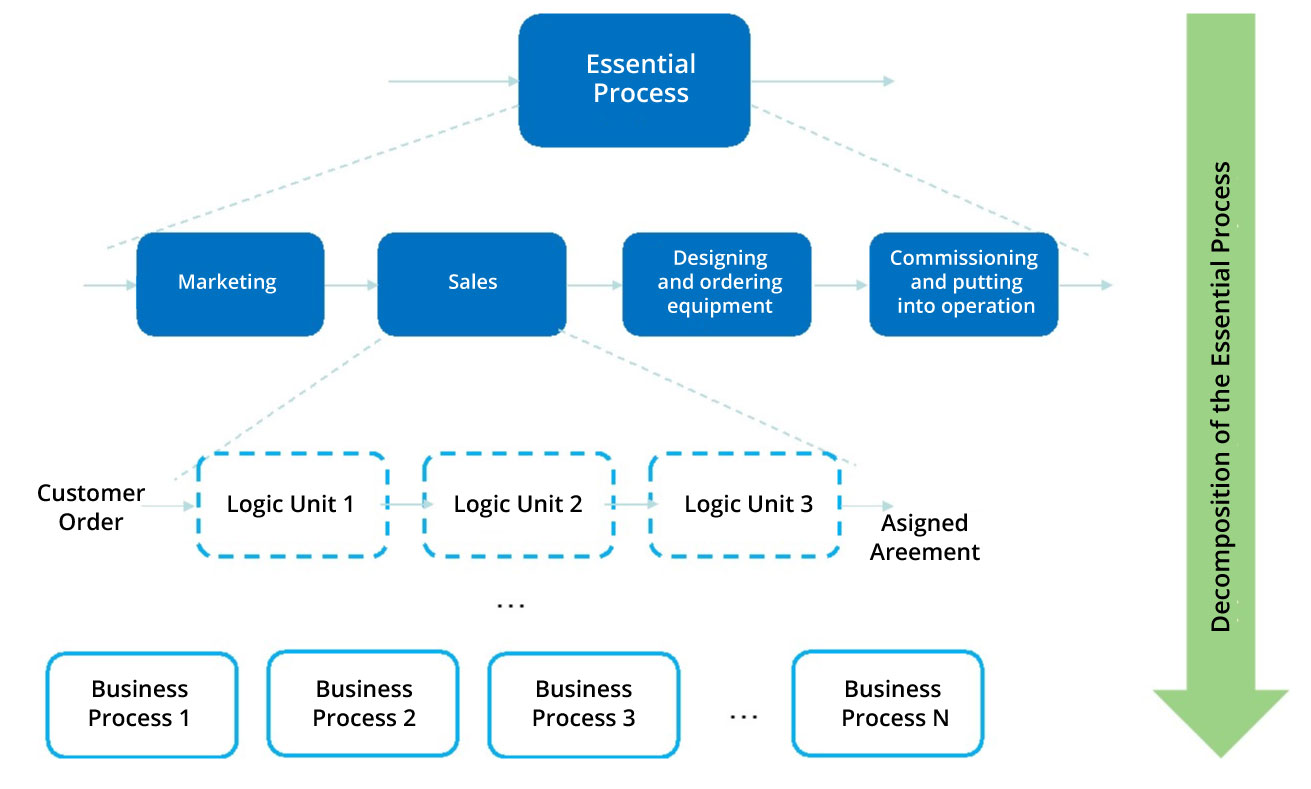 Companies choose a particular notation, depending on their preferences and objectives. For example:
IDEF notation clearly shows the process inputs, outputs, and the functional flow.
BPMN notation allows you to clearly define responsibilities of process participants and achieve process transparency.
EPC notation implements event-driven processes.
By using a particular notation, you can create process regulations, which include: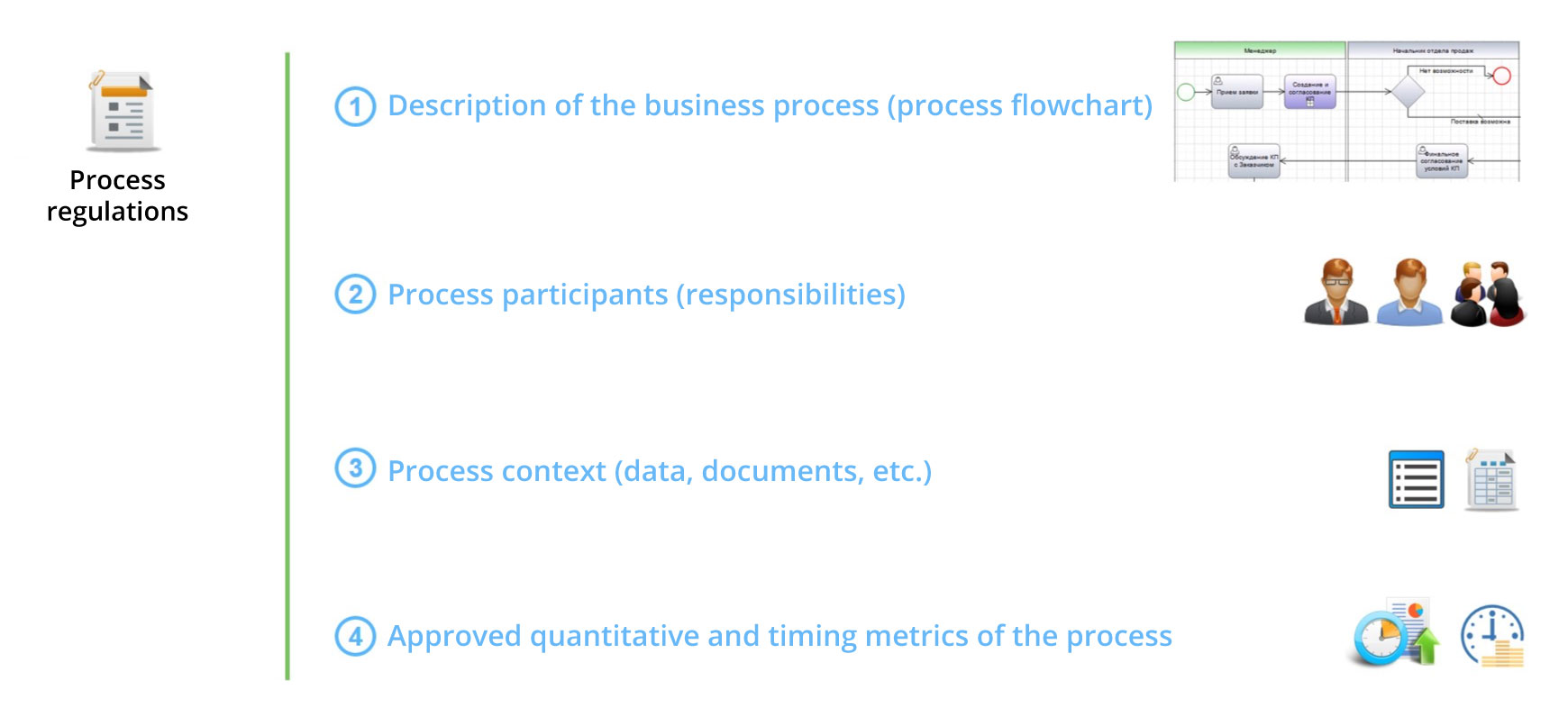 Maturity Level 3
When a company uses software to automate the regulated business processes, it means that the processes have become more mature and reached the third level.
At this point, the company may face a number of difficulties:
Standard IT systems for business processes automation and "out-of-box solutions" do not meet the company's needs.
The company has developed its own unique regulations and needs an IT product able to adapt to the existing business processes, and not the other way around. As a result, the company has either to partially change the logic of the regulated process; or invest in customization of the IT solution.
Process metrics are not included in the scope of the implementation project.
ERP and other specialized systems solve many tasks: management accounting, synchronized planning, automated processes. But they do not allow users to track process metrics. That is why users have no idea how the business process perform.
The automated processes are "cemented" and left unchanged over the years.
This does not bear difficulties for those companies, whose processes need to be stable. However, many organizations, particularly those who develop new business areas, require the ability to quickly change and improve an automated process.
As a rule, in large companies, the maturity of business processes reach 2 or 3 levels. But the main work with the processes begins further on. Process management doesn't come down to process automation. Its main objective is to make meaningful changes and improvements in business processes in order to achieve greater efficiency. And you should have a clear understanding what processes must be upgraded to the next level.
Where to start?
We have extensive experience in implementing BPM. Over the years of practice, we have developed a helpful mechanism to uncover processes that need to be evolved in the first place.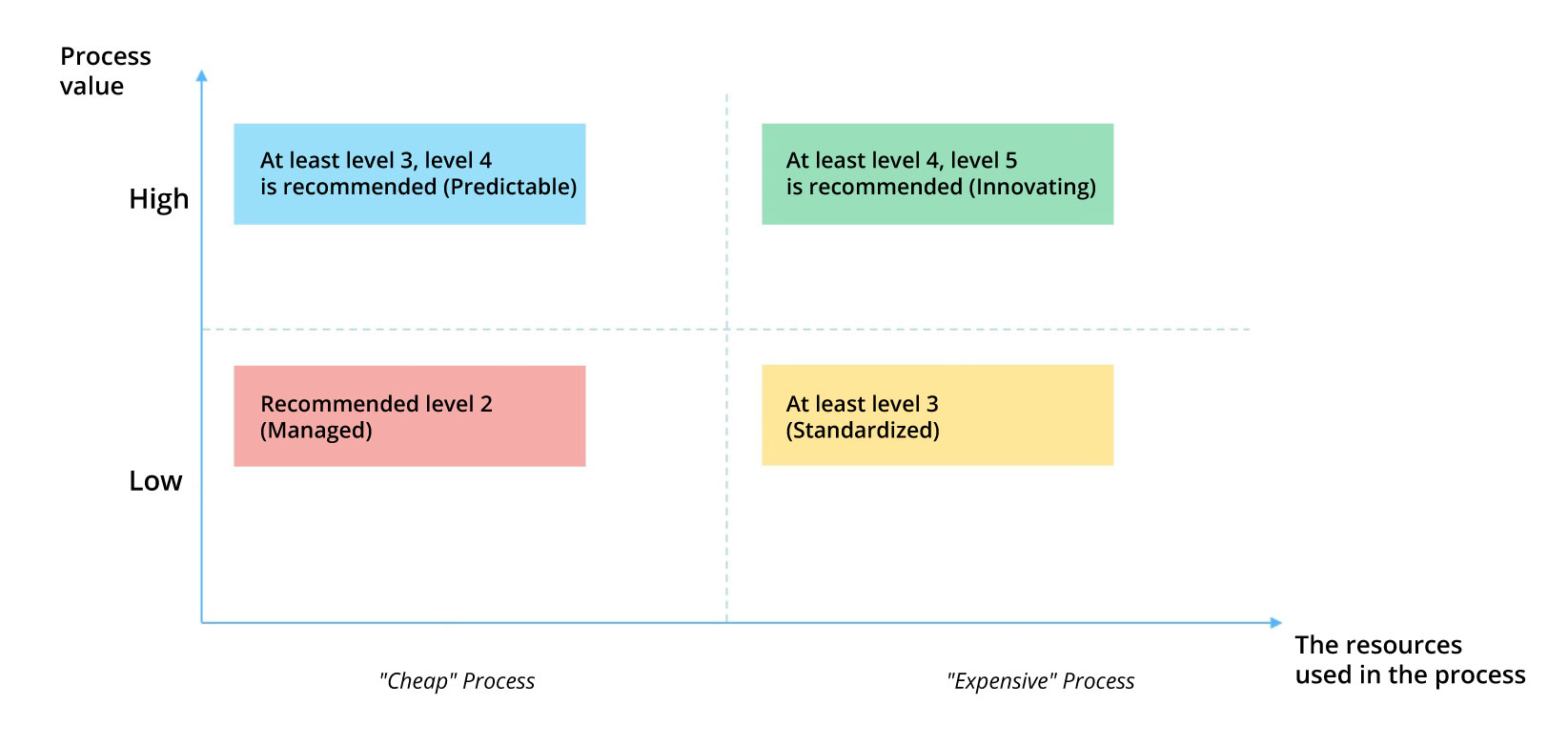 The resources used in the business process (human resources, materials, equipment, etc.) are on the X-axis. The Y-axis shows the value that the process brings to the company. For example, a simple supporting business process probably does not have much value for the company. However, if the process ensures seamless operation of an essential process, which generates millions of profits, its value will be much higher.
Thus, you can divide all the company processes into 4 groups: "cheap" and "expensive" process with the low or high value. Each group should have a particular maturity level.
Think big, but start small. The company may have a lot of business processes providing different value. It is wise to take a pragmatic approach, let the less valuable processes to remain on paper while choosing the most valuable ones for an upgrade to the level 4. This will increase their efficiency, and improve the valuable business process.
A business process management system focuses precisely on 4 and 5 levels of maturity. A company may have an ERP or an accounting system, but process management goes beyond this. The main objective of a business process management system is evolvement of processes that can increase the economic potential of the company from the operating and strategic points of view.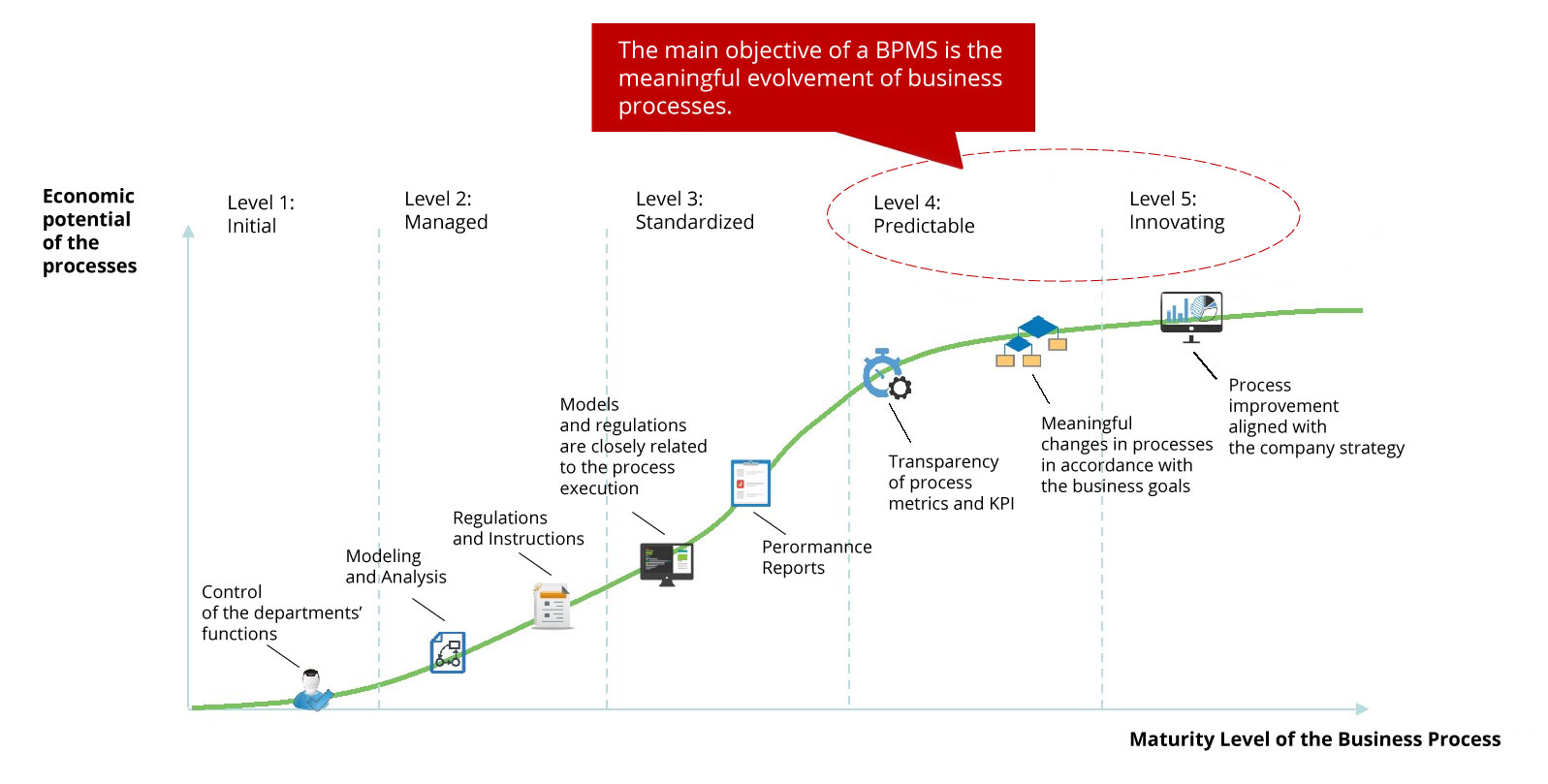 To sum it up, in this post, I talked about two important questions concerning BPM implementation in a large company. The fist – what are the benefits of the process-based approach for the big business and the second – how to start implementing a business process management system.
But there is much more to say about this subject. In my next post, I will continue this topic and describe 4 levels of the company operation covered by a BPMS (goal management, process management, automation, staff motivation). Subscribe to learn about the advantages that a BPMS can provide for each level.
Email Subscription Enter your email address and receive notifications of new posts.
Stay up to date with company news and receive notifications of new posts