Lesson 8: BPMN in Process Improvement
Lesson 1 – Start and the End events, the Task activity, Gateways
Lesson 2 – Events and Gateways
Lesson 3 -Pools, Swimlanes and Task
Lesson 4 – Sub-Processes
Lesson 5 – Messages
Lesson 6 – Artifacts and Data Objects
Lesson 7 – Execution of Business Processes
This Lesson of our BPMN tutorial is dedicated to Control and Improvement of business processes by means of a BPM system.
As we have previously said in Lesson 7, according to the Deming Cycle these procedures are essential for optimization and improvement of your business processes and products.

To find out if the processes were implemented correctly, if they lead to the goal that was set, or if they have any faults you need to control their execution.
The control feature is crucial for process management. It reveals any problems that there might be and allows you to take action before these problems can cause any real damage. Process control implies an analysis of possible problems in executable processes.
Basing on the result of this analysis you can then make certain management decision:
Modify the workflow;
Rearrange responsibilities between employees or departments;
Add workforce in bottlenecks of your processes, where there is clearly not enough of staff;
Reward and promote the employees who are most effective and efficient;
Modify your bonus schemes.
Using ELMA as an example of a BPM system, we will show you how process control is applied in practice.
In Lesson 7, we saw how an employee can control his or her processes through Process Monitor. However, the Process Monitor tool can be extremely useful for supervisors and managers, allowing them to control and analyze business processes.
Some processes include many participants and can be rather complex and confusing when it comes to monitoring. Process Monitor gives a clear picture of how these processes are executed, showing their progress and people responsible for current operations.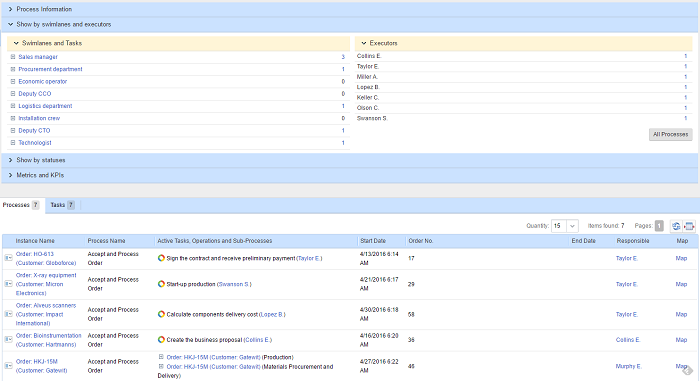 Fig. 42. Process Monitor showing statistics of executed processes
Process Monitor shows all the processes: current, completed and interrupted. If a process has certain KPIs, you can see if the target values are reached. This is very useful when it comes to important management decisions.
If a process is marked with a red circle, its KPIs have not been reached. In Process Monitor, you can find out at which process step the problem occurred and see who the responsible employees were.

Fig. 43. Process Monitor showing statistics on KPIs
In this situation, you can go either of the two possible ways:
Way 1 – improve the current process. The improvement is continuous: you make changes and see how it works out. If the KPI value becomes a little closer to the target value, you are on the right track. Keep improving the process until the KPI value is ranked Excellent.
Way 2 – change the process KPI. It is possible that initially the KPI value was not correctly chosen, so you need to change the target value and modify the process accordingly.
If you are not satisfied with the results, you can always go back to the previous process versions or revise the history of the process's improvement. Everything is stored in the system, so you will have no problem finding the required information.
ELMA does not take decisions for you; it simply guides you offering real data of your company. ELMA acts as a tool that allows you to take timely actions, modify and update your business processes according to external or internal changes of the company.
Even if your company does not use specific process KPIs, you may still come up with ideas of process enhancement and improvement. ELMA is rather flexible and allows you to change the processes even after they were put into work.
Processes are changed and optimized in ELMA Designer. This means that any business user of the company can make changes to a process he or she is responsible for. There is no need to stop the process in order to change it; you can modify it while it is running. With ELMA, you can make changes to a process structure and see right away how effective the process turns out to be.
Consider the following example: CEO decides that the Estimate Cost operation must be performed by the Commercial Officer and not a sales person (due to certain aspects of the company's work). They can change the process right away, while the system is running, no programming is required. After the process is executed in accordance to the changes made, it is possible to evaluate the efficiency of the changes immediately.

Fig.44. Process optimization
Process can be improved continuously to provide the desired result. A process that was perfect yesterday might not be as effective today. Constant monitoring reveals any negative tendencies, giving a signal to the managers that changes are required.
The outcome of a changed process can be compared to the outcome of its previous versions and you can see if the changes had a positive effect. If the results are unsatisfactory, you will see it right away and will be able to revise the taken decisions and make new ones or go back to the old version.
Lesson 7 and Lesson 8 demonstrate that only by following the complete Deming cycle you can enhance your business, make it more competitive and future-oriented.
With a good BPM system such as ELMA, you can implement the process-based approach in your company and manage your business processes throughout the Plan-Do-Check-Act stages.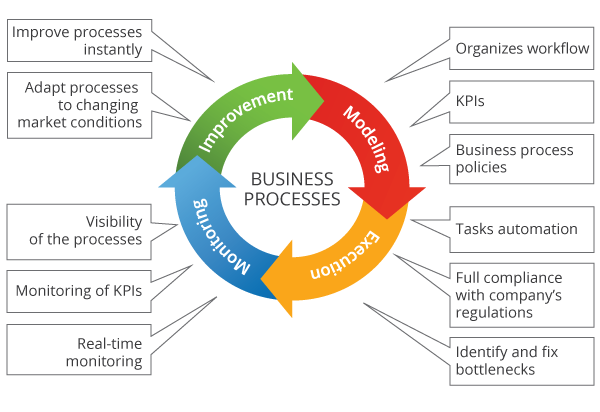 Fig. 45. ELMA in the Deming cycle
This was the last lesson of our BPMN tutorial. We hope that the lessons were helpful and will be of use for improving your company's performance.
Download Demo



Stay up to date with company news and receive notifications of new posts