Lesson 7: Execution of Business Processes modeled with BPMN
Lesson 1 – Start and the End events, the Task activity, Gateways
Lesson 2 – Events and Gateways
Lesson 3 -Pools, Swimlanes and Task
Lesson 4 – Sub-Processes
Lesson 5 – Messages
Lesson 6 – Artifacts and Data Objects
In Lesson 7 you will learn how business processes modeled with BMPN are executed.
The primary goal of BPMN is to provide a notation that would be understandable to all business stakeholders, from analysts who create the processes to business managers who monitor and control them.
Process models are a powerful tool of business analysis because they show in a standardized form the whole structure and dynamics of a company.
This makes the company's work very transparent and, therefore, valuable for business process reengineering.
Usually, companies decide to describe their business processes with the aim to raise their profit. Once the processes are described, employees get a clear picture of how the company works. Possibly, the company even receives a quality management certificate, if that was the initial goal.
Then the question comes up: What's next?
It is one thing to describe the processes and another thing to work according to them, trying to keep them up-to-date. It often happens that companies stop at describing the processes, satisfied with the minor competitive advantage that they might have gained.
However, those who are concerned about the development of their business might want to discover how the described processes can be used for even more benefit.
Many business owners consider process modeling a solution for all their business problems, yet they are mistaken. Describing business processes certainly can help, but it can't do magic. What really works is a complex approach, where description of business processes plays a part.
Let´s take a look at the concept of process maturity, which shows until what extent a process is manageable and predictable.
There are five levels of business process maturity:
Level 1: Initial – business processes are inconsistent and are not coordinated.
Level 2: Managed – business processes are defined, but different procedures are used for similar tasks, making work badly coordinated.
Level 3: Standardized – standard processes are synthesized from best practices, and guidelines are provided to support different business needs.
Level 4: Predictable – detailed measures of the processes and their outputs are collected, analyzed and controlled. Process performance is measured throughout the workflow so that process outcomes can be predicted.
Level 5: Innovating – processes are continuously improved.
Every new level makes a company more able to meet competition, timely react to market requirements and wisely use its resources. Fully describing and specifying the processes can take the company to Level 3 at the most. It is possible to go from Level 3 and higher only if the workflow (business processes, document management and so on) is automated.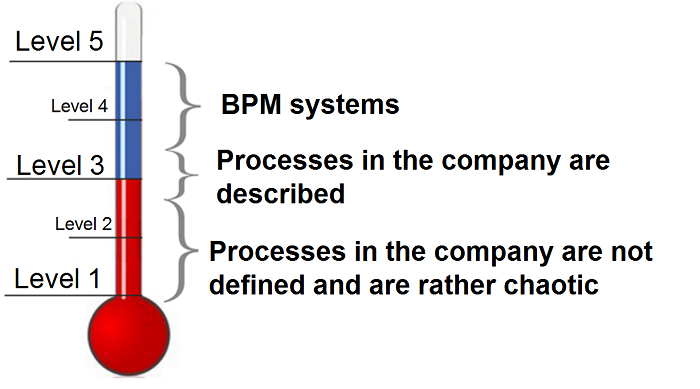 Fig. 35. Business process maturity scale
BPM systems have proven to be very effective when it comes to automation of business processes. With a relatively low input and very little programming, you can load a designed process model into the system. Then you create data models and forms, add performers, business rules and make connections with other IT tools of your company.
As a result, you have a solution that ensures constant monitoring, analysis and management of business processes in the company. From process to process, from task to task, the workflow and information flow are directed and automated.
Let us take a look at how a simple business process, "Invoice approval", is executed in ELMA BPM.
The general process flow can be represented by the following diagram: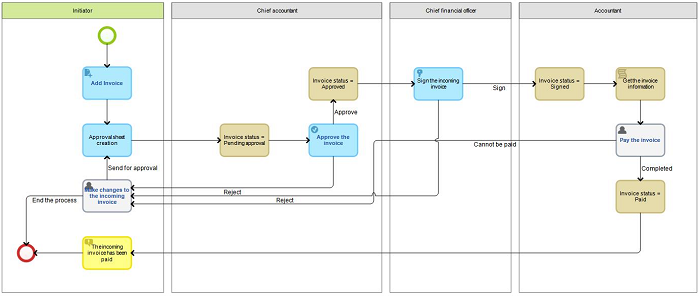 Fig. 36. Diagram of the "Invoice approval and payment" process
Any company employee can start the process. In ELMA, invoices are added by filling in a special form and specifying the invoice name, contractor (company who issued the invoice) and assigned place of storage in the system. All the employee has to do is fill in the necessary data and upload the scanned invoice.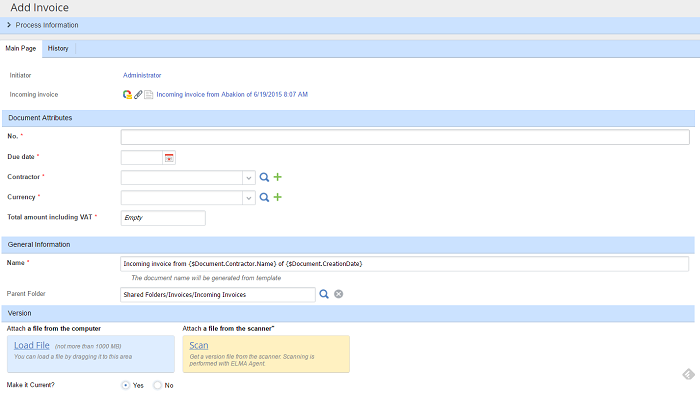 Fig. 37. Invoice creation form
A predefined form makes it easier to introduce data and store process information in the system.
The document status is managed automatically by the system, so after the document is created and sent to the financial director for approval its status chages to "Pending approval", and the financial director is assigned with a task to "Approve invoice".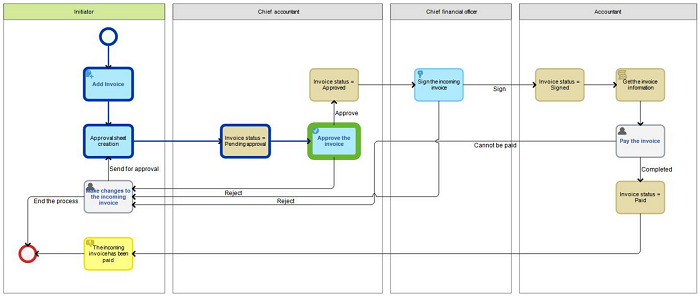 Fig.38. Process map during task execution
Notes:
– In ELMA, the process map allows you to track the process progress.
– Document activities are colored blue.
– An important ELMA feature is notification of employees. ELMA sends a corresponding message when an invoice is approved or rejected (the reason for rejecting the invoice must be specified). With this feature, employees do not waste time trying to find out whether their superior has already approved the invoice.
The processes where you act as initiator, participant or responsible can be viewed through Process Monitor. A report is created for each type of process, showing information on all the instances: the status, the person responsible, current tasks, start and end dates.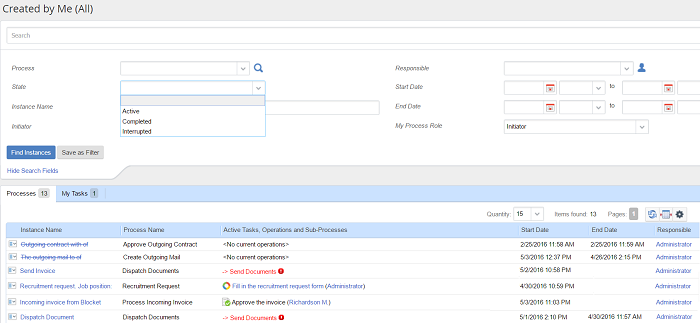 Fig. 39. Process Monitor
In Process Monitor you can see all the current, completed and interrupted processes and tasks. The process status shows if a process slows down thus allowing you to take timely action and step in if necessary.
When any internal or external conditions change, the processes also need to be changed. More often, it is done manually by reviewing the process and introducing changes.
Usually, processes are managed and updated by programmers, whose opinion does not always coincide with that of the business.
As a result, business people are left with a whole load of contradictions that create a gap between business and IT.
BPM system allows business users to manage and update business proceses, making them more effective and successful.
In ELMA, there is a person responsible for each process, for example, the HR director is responsible for the HR processes. However, if another process participant sees a way to improve the process, they can make a suggestion about it to the process owner.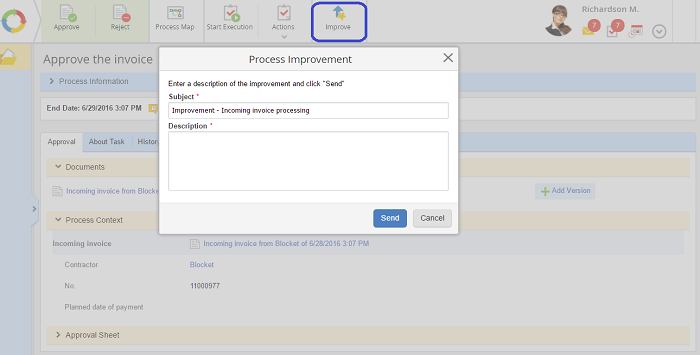 Fig.40. Process improvement in ELMA
According to the Deming cycle (Plan-Do-Check-Act), the simplest model for process improvement consists of four steps: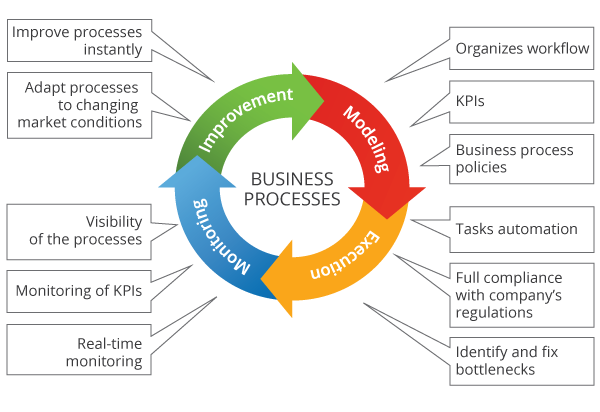 Fig.41. Deming cycle in business process management
Plan – define the objectives and processes that are necessary to deliver the expected result; plan the work aimed at accomplishing the process goals and satisfying the customer; schedule resources.
Do – implement the plan.
Check – collect information and study the actual result comparing it to KPIs; look for deviations, analyze them and find their causes.
Act – implement the improved solution, correct deviations; modify the plan and resource scheduling.
Let us sum it all up.
BPMN allows you to model an executable process. The main concept of an executable process is as follows: first, you draw the diagram, and then the process is executed according to the diagram. Processes described with BPMN and automated in BPM systems are manageable from the moment they are modeled to the moment they are executed, allowing for constant improvement.
In this lesson, we have reviewed the first two steps of the Deming cycle: modeling and execution of a process.
In Lesson 8, we will take a closer look at how business processes are controlled and improved in a BPM system.
Stay up to date with company news and receive notifications of new posts